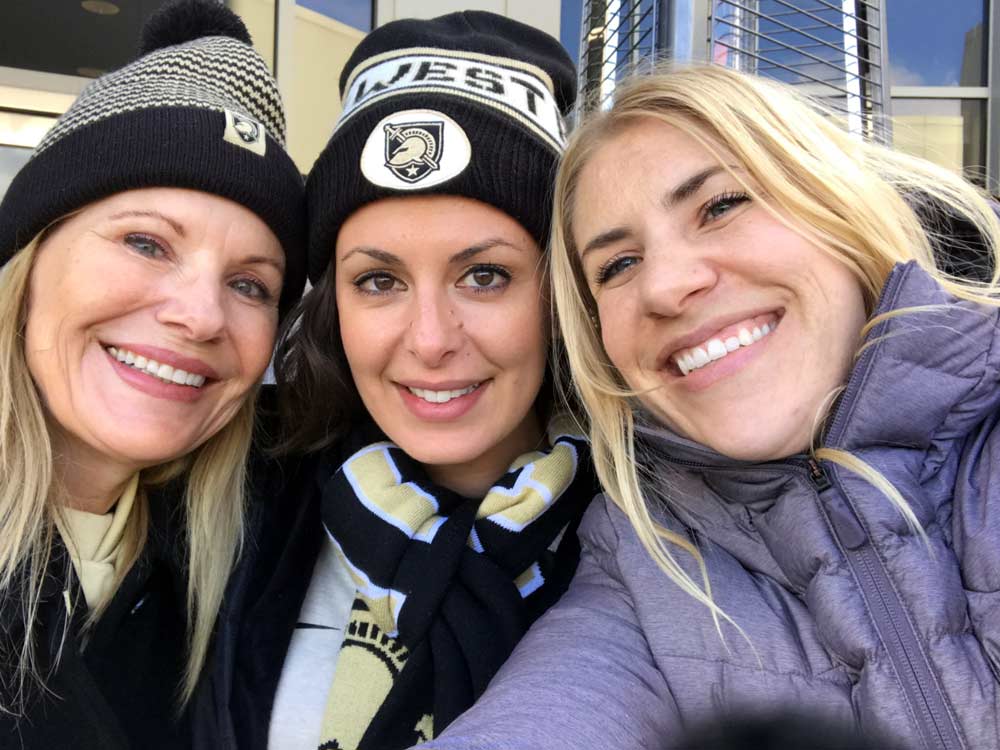 Photos of Andrea's family, brother, and her with her Legacies Alive family
Sister of First Lieutenant Daniel Hyde
Legacies Alive changed my life. We are a family. It's so comforting to know that we can talk and share stories in a safe space, without judgement or expectation. I had never had that before. We can also get together and have the best time, celebrating the life of our lost loved ones by building new relationships and supporting one another. 
My older brother, 1 LT Daniel Hyde, was killed in Iraq in 2009. He was a 2007 West Point grad. I learned about Legacies Alive when my mom told me that "some guy" was hiking across the country, covering one kilometre in memory of each person killed in The Global War on Terror. Of course, she was talking about Mike Viti of Legacies Alive and his "Hiking for Heroes" challenge.
It wasn't until the second Legacy Challenge, Chris Ring's "Swim for their Sacrifice" that I got to experience the powerful love and dedication Legacies Alive has for Gold Star Families. My first experience with the organization was during Chris Ring's swim. My mom and I flew out right before Thanksgiving to Louisiana to see him swim for a few days and cheer him on. It was then that I realized how special this group of people were, and how much I wanted to help support their mission. 
At that Legacy Challenge, the significance for me was more than just witnessing Chris and his unimaginable mental and physical challenge, it was spending time with him, laughing, telling stories about my brother, Daniel, and showing our gratitude for the support we have been given. I benefited so much from not only getting to know the team, but also getting to know other Gold Star Families.
The first year I attended the Army Navy game, which is sort of like a family reunion for all of us, I met a fellow Gold Star Sister, Lauren Prasnicki. From that day on, I have had the privilege of calling her a friend and sister. We are on opposite sides of the country, but we have an incredibly special bond, and I know that we always will. Meeting Lauren and having the ability to swap stories with so much understanding of each other's loss really changed my healing process for the better. I can never express my gratitude to Legacies Alive for not only bringing the two of us together, but for also providing events where we get to reunite, laugh, dance, and support one another in person.
I have always wanted to help Legacies Alive spread their mission and grow the family they have created. I am honored to have the opportunity to do so now.
Andrea currently serves on the Legacies Alive board as our Apparel Coordinator.