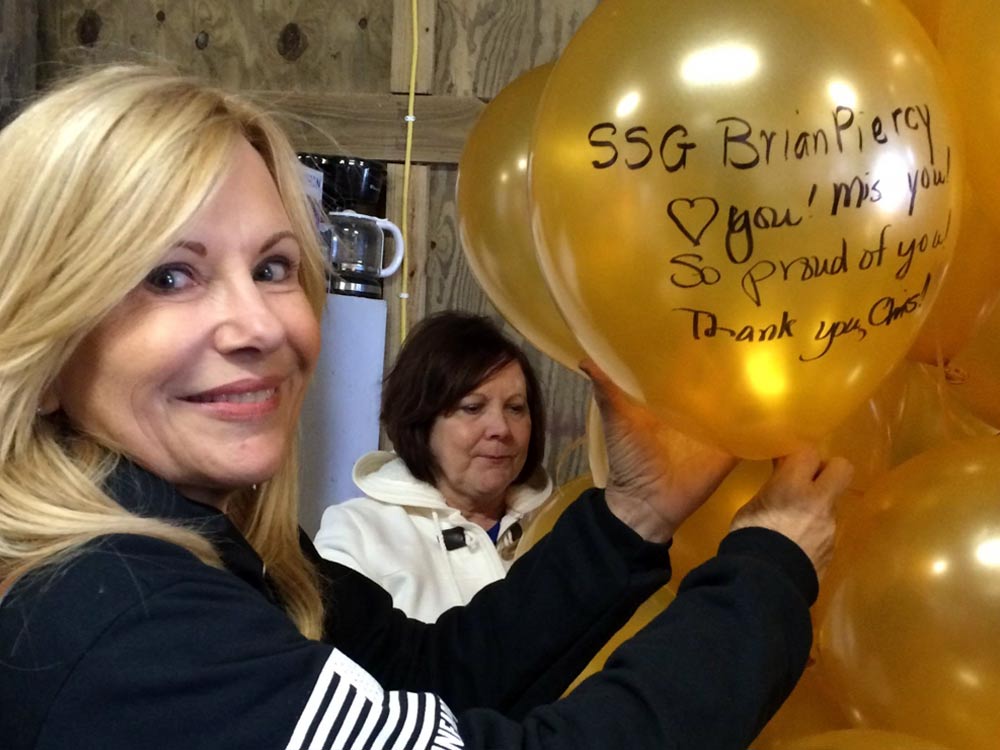 Photos of Carol with her Legacies Alive family
Mother of SSG Brian F. Piercy
One of my favorite memories with Legacies Alive was on December 4, 2015. I joined other Gold Star families in New Orleans to witness and celebrate the completion of Chris Ring's six-month swim down the Mississippi River in honor of our fallen heroes. Prior to heading for the river that morning, we were each invited to honor our fallen family member by signing the kayak that accompanied Chris along his 2,350-mile swim. Several boats, including one that carried Gold Star families, followed Chris and the kayaks for the final few miles of his swim. There was so much excitement at the finish, with perhaps the most noise coming from our boat! Two boats offered up water salutes and sounded their sirens. We hugged one another and celebrated our fallen sons as we cheered to thank Chris. When we returned to the dock, we released golden balloons in honor of our loved ones. It was a day I will never forget.
When I first learned about Legacies Alive and Mike Viti's Hiking for Heroes Legacy Challenge, I asked myself, "How can this help me?" But when I met these men who are so passionate about honoring the fallen and supporting their families, they quickly became like family. They and the other Gold Star families I met through the events and challenges have become an integral part of my life as I process the grief. We share a deep bond.
From the time I attended the first Legacies Alive gathering in 2014, my heart began to heal. Spending time and sharing stories with other Gold Star families helped me see that I was not alone on this difficult journey. Together we were honoring our sons and celebrating their lives. It felt so good.
Legacies Alive is more than an organization that connects Gold Star families together. It is veterans connecting us and connecting with us, men who have led and served alongside our fallen, have experienced their own loss, and are dedicated to honoring those who have fallen.
Carol currently serves on the Legacies Alive board as our Gold Star Family Advisory Board President.
Related
Links & Information